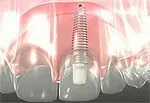 Today, if you lose one or more teeth, you now have options beyond bridges and partial dentures. The optimal treatment would be dental implants.
Dental implants are titanium fixtures that are surgically screwed into the jaw bone and are used to anchor natural-looking teeth.
Since the bone grows around the implant, the result is a smile that not only looks completely natural, but one that feels and functions more like your own teeth.
Patients who are missing most, or all, of their teeth can greatly enjoy the benefits of dental implants as well.
Unlike full or partial dentures which are usually loose or unstable, dental implants provide an optimal replacement.