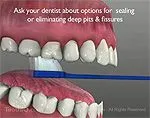 Proper teeth cleaning and dental hygiene can prevent gum disease, tooth decay, swollen and bleeding gums, and receding gum line.
In addition to maintaining a beautiful smile, recent studies have suggested a link between dental health and overall physical health.
Your dental care is not complete if you do not have your teeth cleaned by a dentist or an experienced hygienist at least twice a year. This is the easiest part, since we will do all dental hygiene work while you sit back and relax in a spa like environment.
We use modern instruments and techniques to gently clean any plaque buildup around the gum line and between teeth, while also focusing on areas that you cannot normally reach during your daily teeth cleaning at home.
Depending on the effectiveness of your daily oral hygiene, the teeth cleaning can last between 30 minutes to an hour. During the final step, we will polish the enamel of each tooth with a soft brush to remove staining and give your teeth a fresh, glossy shine.
We build long-lasting dental relationships one smile at a time.