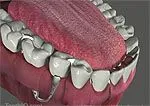 Full Dentures are worn by patients who are missing all of the teeth in a single arch (i.e. the maxillary (upper) or mandibular (lower) arch). Our dentures are custom made to each patient for a natural appearance and comfortable fit.
Partial Dentures replace some, but not all, of the teeth on the upper and/or lower arch.
Undetectable Partials are the newest type of dentures which are virtually undetectable offering enhanced cosmetic results.
We build long-lasting dental relationships one smile at a time.